Home is Where the Heat Is
The Twisted Mosaic's reader favorite, Claire, has some twisted fun of her own.
Dependable paralegal Claire O'Connor knows the man of her dreams is out there waiting for her, and she's ready for him. Imagine her surprise—and delight—when she discovers not one but two men who lust for her. One adores her; the other challenges her. One makes sense; the other is a gamble.
Despite the family tragedy that shaped his past, JT Luck has only known professional success. His personal life, however, is a failure. He doesn't want a relationship, and while his 'let it ride' attitude keeps most women at a distance, Claire is eager to roll with him.
But when she finds out Kurt Langston, the office's resident computer geek, harbors a secret crush for her, she wonders if he's the safer bet. Kurt doesn't get close to people, and his feelings for Claire make no sense in his carefully ordered life. His unexpected bond with JT pushes him to take chances he never imagined.
Go all-in or go home? Either way, the heat could be more than they can handle.
Kurt clenched his fist to still his shaking limbs. He nodded then gazed at the woman beside him. Her flushed cheeks and breathless words highlighted her excitement, but her eyes held a whisper of fear.

"Do you really want to do this?" he asked.

"Yes." She wiggled closer to him.

"I know you want him." Kurt nodded toward JT as he tipped the waiter and closed the door behind him. "And I understand your craving for two guys, but are sure you want me?"

"Why not you?"

"In all the time we've known each other, you've never once shown any interest in me."

The pink in her cheeks turned red as she stroked the back of his hand. "I'm sorry. I've always thought of you as the yummy IT guy. I should've let you know, but I didn't know how."

Yummy IT guy? Hell yeah, I would've loved to know that. Kurt laced his fingers with hers.

She closed her eyes, tilted her head back and presented soft, red lips. His heart stopped and he stared at her perfect face: thick eyelashes fringed on her cheeks, faint freckles dotting her nose, and a mouth made for kissing.

"You're beautiful."

One eye opened and glared at him. "You're clueless." She slid her arm around his neck and pulled him down until his lips touched hers.

The room spun and reality disappeared, leaving only his longed-for fantasy in his arms, kissing him, slipping her warm tongue into his mouth. He held her tight and savored that kiss, hoping it might be the first of many.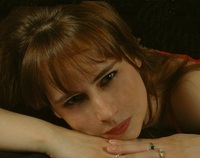 I got hooked on trashy romance novels in junior high, but my mom took them away from me, But she couldn't stop me from daydreaming. After I got married, I wrote some of my naughtier daydreams down and sent them to Playgirl magazine. Two of them got published. I kept daydreaming and writing stories until my dirty stories turned into trashy books.
I live in Colorado, but I'll always be a loyal Wisconsin Cheesehead. When I'm not lusting after my next bad boy hero, I'm looking for inspiration in sci-fi and action movies, football players, morally ambiguous lawyers, muscle cars, and kick-butt chicks.
You can find me on Facebook, and on Twitter I'm known as Trashy Writer. I call myself a trashy writer because I want my readers to know that I enjoy mindless escapism as much as they do. I'm not out to win a Pulitzer Prize. (But I'm an award-winning finalist in erotica, USA Book News 2012.) I just want to help someone relax and get away from it all for a little while. I write romance, erotica and trash for fun and pleasure.
Win a signed copy of Home is Where the Heat Is and SWAG
@TrashyWriter @GoddessFish