What happens when a hot and horny ghost soldier unleashes his insatiable sexual desires at a country bed and breakfast?
A series of supernatural seductions that drive women wild.
ADULTS ONLY PLEASE. Paranormal Desires is a 30,000 word collection that contains sexually explicit material and adult language. This story is not appropriate for children and may be offensive to some readers.
When Jeannie and her husband buy a house in the country, they can't wait to fulfill their lifelong dream of opening a bed and breakfast. But as she prepares to launch her new business, she finds herself seduced by a paranormal entity dedicated to delivering sexual pleasures beyond her wildest fantasies. Confused and somewhat afraid, Jeannie is torn between wanting the entity out of her home and craving more orgasmic encounters with her ghost lover.




Warning: Supernatural Seductions (13,000 words) contains seductions from a hot and horny ghost soldier, a paranormal ménage à trois, anal sex in the shower, a thwarted paranormal investigation, and a brief art history lesson.
When Traci visits her boyfriend's family at their country house, she gets a lot more than rest and relaxation—thanks to the hungry touch of a horny ghost soldier who uses his paranormal desires to make her orgasm all weekend long. These encounters bring Traci and Bill's sex life to a whole new level, and she soon discovers that sex with a ghost is an erotically delicious experience in its own right.

Warning: Supernatural Seductions II (6,000 words) contains seductions from a hot and horny ghost soldier, a paranormal ménage à trois, a wet T-shirt incident, oral sex, anal sex, and an awkward walk in the woods.
Olivia needs to get away—away from the job that she hates, from the stress, and from the fact that she hasn't had sex since...she doesn't even know. When a friend gives her the opportunity to spend a free weekend at a country bed and breakfast, with the promise of an out-of-town hook up, it seems like the perfect remedy for her discontent.

And the trip doesn't disappoint: Throughout the weekend, Olivia becomes possessed by unexplained sexual cravings that bring her to the heights of pleasure. But who is she sharing all of these delicious desires with? What is the unseen force that is making her orgasm over and over and over again?

Warning: Supernatural Seductions III (5,000 words) contains seductions from a hot and horny ghost soldier, vibrator play, anal sex, a naked sprinkler game, and splinters in unusual places.
Serena needs to understand why she's been having erotic dreams about a long-lost ex—a fallen soldier who died years ago. After seeking guidance from a therapist, a friend, and even a psychic, she feels an overpowering need to look for answers at a country bed and breakfast. During her visit, Serena taps into her unresolved feelings and sexual desires, giving her the closure that she desperately needs.

Warning: Supernatural Seductions IV (6,000 words) contains an awkward attempt at anal sex, doggy style on a desk, penetration in a pool, and a healthy dose of psychic skepticism.
I doubt "hot ghost soldier" was in the brochure for the B&B!

This story was just so unique! Well, and also extremely erotic.

Paranormal Desires is comprised of all four Supernatural Seductions books. While each could probably be read as a stand-alone, I definitely recommend at least reading the first book before reading any of the others. (I believe the first book is permanently free at most eBook retailers).

In Paranormal Desires, we learn of four women this "dead sexy" soldier seduces while they visit his secluded former-home-turned-Bed & Breakfast. The first is the woman who actually owns the property, the second and third are guests, while the fourth was, to me, the most intriguing. Serena actually had a history with Jesse the Ghost Soldier and knew him quite intimately before he died. Imagine her surprise when she meets him again!

Kiki's writing is so interesting in that books I and II were concurrent, and the major characters and minor characters just swap between the two books.

I would love for this to be turned into a full-length erotic novel. The story line is really promising in that regard, especially when the element of Serena gets introduced. But as it is, it is DEFINITELY one hot, quick read!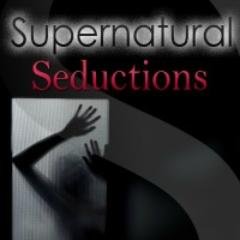 Where does good sex begin?
Between the ears, of course!
That's why I work hard to write erotica that stimulates the largest sex organ we have--the mind--because when we're titillated upstairs, the nether region is sure to follow.
Want to get hot and horny upstairs and downstairs? Check out my erotic stories.
Kiki Wellington. Literary Flesh Peddler. Intelligent Freak.
www.sexwithkiki.com
*****
Want to get freaky this Halloween? Check out these October sales!
-Paranormal Desires (Supernatural Seductions I-IV)
Get four ghostly erotica stories for the price of one!
-Horny Holidays (The Halloween Edition)
Two hot Halloween stories for one low price!
*****
And don't forget to check out these freebies:
Cruel. (The Billionaire Bitch Trilogy #1)
Stroking (The Sensing Lust Series)
Supernatural Seductions
Win an eCopy of Paranormal Desires
***Please note: This prize is being provided and is authorized by Kiki Wellington***
@KikiWellington