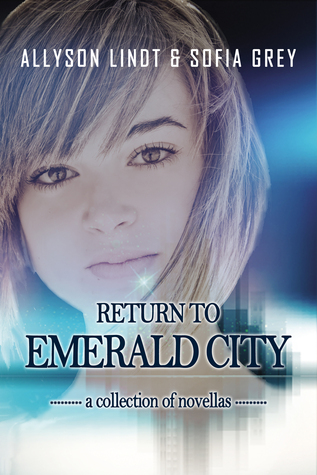 A Collection of Sci-fi Romance Novellas Inspired by The Wizard of Oz
Dorothy's Red Shoes
There's no place like home… Dorothy is already feeling homesick for Emerald City, and wonders if taking a job halfway around the world was a mistake. When her love life crumbles–again–will she run for home?
His Replay Girl
If he only had the nerve… Ten years ago, Quinn made the best choice of his life, and the biggest mistake. It's true, his band, Lionheart, is one of the biggest in the world, but how much does it mean if he can't tell the woman he loves how he feels?
His Reboot Girl
If only he had a brain… Scott woke up with his head spinning and not much else going on up there. Now he's a suspect in a terrorist plot, and on the run. One woman insists she's the key to his past and his freedom. Too bad he doesn't remember her.
His Rewind Girl
If he only had a heart.... Cam is as much machine as man. There are days he loathes the CyGes implants that saved his life but couldn't do the same for his family. They replaced his limbs, but now he needs someone to mend his heart.
He exhaled and made his way back into the bar, a thread of adrenaline making his blood flow faster through his veins. At least the implants didn't take that from him. Most everyone had already returned to their own drinks and conversations. He wove through the tables back to his empty bottle, he raised his eyebrows when he saw Ana was still there.

She dabbed furiously at her shirt with a handful of napkins, muttering the entire time. "Dammit. This isn't going to come out of silk. Fuck."

He smiled at her loss of composure, but he squashed his amusement again. "Anything I can do to help?"

She looked up, eyes wide. Her top was suctioned to her chest, obliterating any hint of 'left to the imagination' that had been there earlier. Her smile slid back into place, but her stiff jaw and the lines in her forehead marred the expression. "Loan me your shirt?"

Again, he wasn't sure if she was joking. It didn't matter. Something about her was compelling, and he didn't think his racing pulse was entirely due to the miniature whirlwind of a stray cat. He had no idea what about Ana made her so compelling. Her temperament, sliding from coy to flustered in a flash, her composure, or a combination of all of it. If he could keep her around a little longer, he was going to. "I have an extra, if you'd like."

She looked him over, lips pursed, and then walked around him. "Where? In your back pocket?"

The dry disbelief mixed with the quirk of her mouth made him chuckle. He nodded toward the exit. "Outside. On my bike."

"So I'm supposed to just follow you outside to some dark alley?" She crossed her arms and took a step back. "Wait. Did you say bike?"
Sofia Grey
Romance author Sofia Grey spends her days managing projects in the corporate world and her nights hanging out with wolf shifters and alpha males. She devours pretty much anything in the fiction line, but she prefers her romances to be hot, and her heroes to have hidden depths. When writing, she enjoys peeling back the layers to expose her characters' flaws and always makes them work hard for their happy endings.
Allyson Lindt is a full-time geek and a fuller-time contemporary romance author. She prefers that her geeky heroes come with the alpha expansion pack and adores a heroine who can hold her own in a boardroom. She loves a sexy happily-ever-after and helping deserving cubicle dwellers find their futures together.
Win a $10 Amazon gift card
a Rafflecopter giveaway
@AllysonLindt @SofiaGreyAuthor @GoddessFish